Oreo a (Female) Pug puppy
Meet Oreo! She is a Blue Merle pug puppy. Raised here at our home, she gets lots of love and attention from us. She's a friendly, outgoing pup and would love to meet you!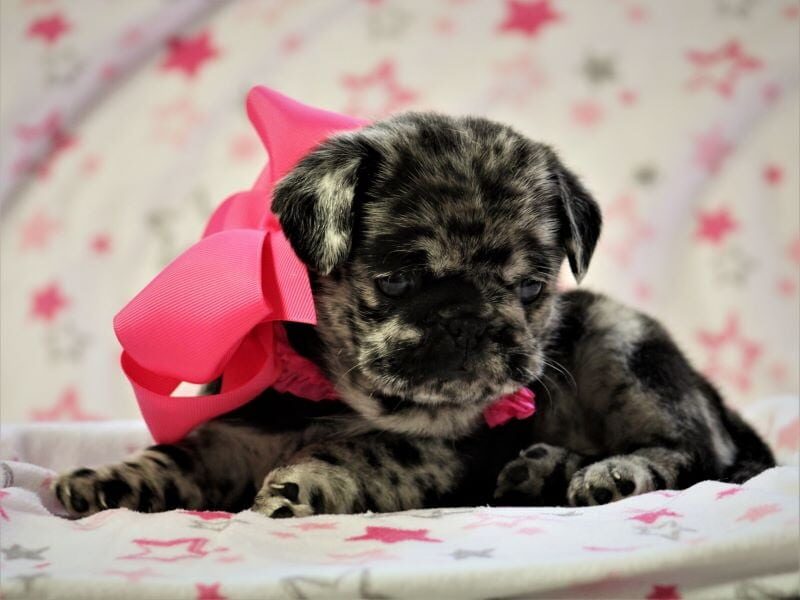 Here is Oreo a Pug (Female), Born July 15, 2021 She should be ready to go home by September 9, 2021
Oreo is now reserved by ASHLEE ROOKARD
Please click on each of Oreo's photo's below to view.
Intial photos when Oreo was around 5 weeks old.
(Photos taken August 19, 2021)
Updated photos when Oreo was around 7 weeks old.
(Photos taken September 2, 2021)
Gender: Oreo is a Female
Age: 4 months, 2 weeks, 1 day old.
Ready for Home: September 9, 2021
Grown: Approx. size of ~ 15 to 30 Lbs
Price: $2,014.00 (1,900.00 +114.00 tax)
---
---
Oreo's general health regime:
Oreo's health regime is complete, ready for home!
Day21: Deworming
Day28: Vaccine
Day35: Deworming
Day42: Vaccine
Day42: Deworming
Day45: Vet Exam
Day49: Weaning
Day49: Deworming
---
Here are Oreo's other siblings:
---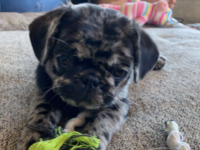 November 26, 2021
Hi!  Thanks for reaching out, we named her "Prada" and she is doing so well! We absolutely adore her.
---